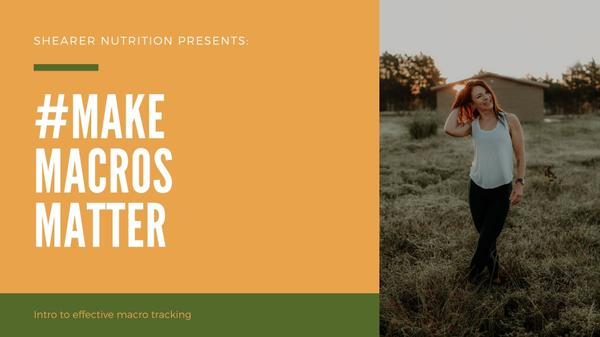 #MakeMacrosMatter: A 5 Day Course, showing you how to track macros effectively!
So Many People WANT to learn to Track Macros, but find it Overwhelming or Confusing!
I created this Course to teach others just how simple and effective tracking can be!
In these 5 Simple lessons, I will be breaking down the entire process I use, Step by Step, so you will understand it for yourself and be able to use the method for lifelong results!
What are macros?

How to use MyFitnessPal

MyFitnessPal features that you need and those you don't

How to set an accurate goal

The different phases of Macro based nutrition

How to use the food scale

Balanced meal planning

How to navigate eating away from home

And much, much more!
I will also be sending you several Free tools to help you!
Register to have this Course sent to your inbox for only $24.99, here:
Purchases from this website cannot be accepted at this time.
Sorry. This product is missing some information and can't be purchased at this time.
Your Order
#MakeMacrosMatter
$24.99
Thank you for your purchase!
Product
#MakeMacrosMatter
How does #MakeMacrosMatter Work?
Sign up through this link, and you will receive a confirmation that you're registered.
You will receive a Welcome e-mail.
Each Day for 5 Days you will receive the day's lesson in your inbox with Video links, Slides to follow along, and helpful PDFs to download and keep.
The other cool thing is each Lesson is less than 15 minutes max!
You will walk away after 5 days knowing how to track macros like a pro!
If you've been wanting to try this, THIS MAKES IT SO EASY & CLEAR!!
NOW IS THE TIME BECAUSE IT'S ONLY $24.99!